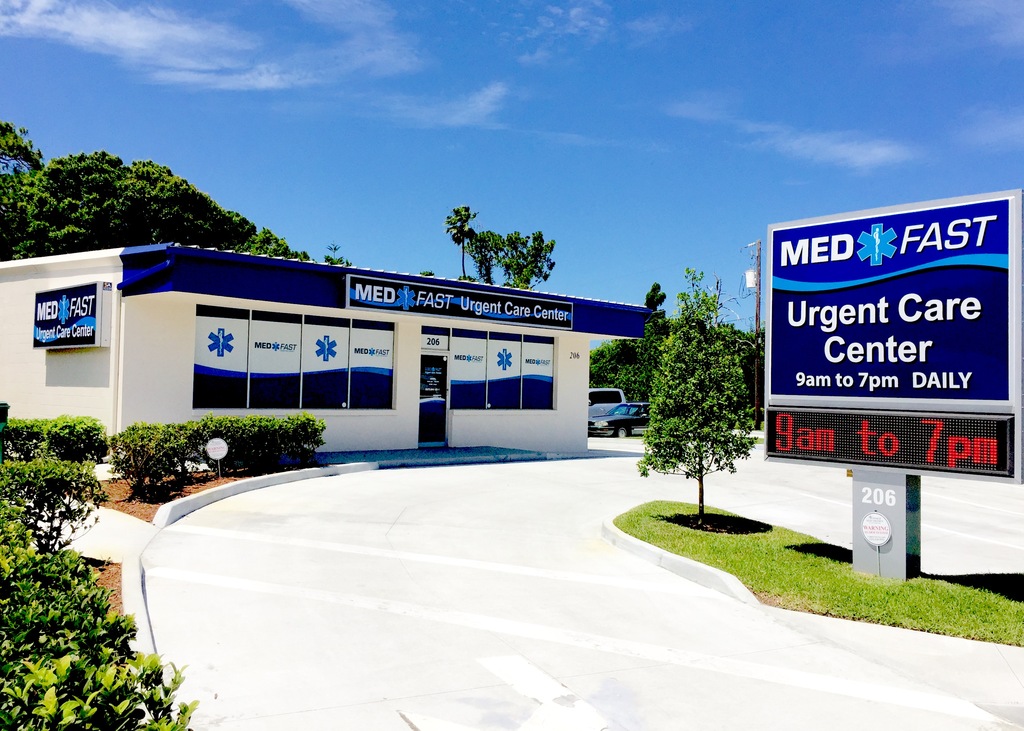 Address:
206 East New Haven Avenue
Melbourne, FL 32901
Phone: 321-802-3311
Medfast Urgent Care Center in Melbourne offers many of the same services as hospital Emergency Rooms, but much faster and in a convenient, professional environment. Our average wait time to see patients is less than an hour, compared to busy hospital Emergency Rooms, which can sometimes take up to five or even six hours. When you have a minor emergency, work related injury, or need a work or sports physical, Medfast Urgent Care Center in Melbourne is there to serve your medical needs.
Our Downtown Melbourne Urgent Care Center is conveniently located on New Haven Avenue. Located in the 'heart of Melbourne'. We offer a location that is centrally located near all your favorite places and easy to find. No need to make a trip to the ER and sit waiting while your symptoms and pain are worsening. Our doctors are dedicated to prompt service of our patients, we also offer a wide variety of labs and a number minor procedures on site. Some of the labs we offer include Respiratory Testing, EKG's, blood tests, Urinalysis, and X-Ray's. Minor procedures include but are not limited to: suturing of cuts and lacerations, splinting, casting and administering IV fluids. If you have never been to our urgent care center in Downtown Melbourne and are unsure of what conditions we can treat here is a list for your convenience: minor Burns, common colds and coughs, earaches and ear infections, cuts and abrasions, flu viruses, pneumonia, skin rashes, UTIs, sprains and strains, allergic reactions, abdominal pain, asthma, animal bites and scratches, dehydration, gastritis, bronchitis, boils, insect bites and stings, back pain, sore throats and more! We can also provide you with DOT Physicals, Sports Physicals and Workers Compensation Care.
By visiting our Melbourne Location, which is 1 mile away from the local hospital, you can save on cost of care. In fact, by visiting us, you could potentially save hundreds of dollars. We offer you a choice other than the emergency department or scheduling an appointment with your primary doctor as it is sometimes difficult to get an appointment on the same day. Not to worry though, our urgent care centers offer appointments on a walk-in basis and can typically get you seen within an hour. Currently at our Melbourne Location we can get you seen in about 30 minutes, saving you an incredible amount of time! We look forward to the opportunity to serve the Melbourne Community.
All of our Centers are open 7 days a week from 9:00 am to 7:00 pm, we are open 363 days a year. We understand that everyone has busy schedules and that you may have to schedule an appointment around your work schedule and your active life. Accidents and minor emergencies happen unexpectedly, Medfast Urgent Care extended hours and staff is here to accommodate your needs!
MAP
---