COVID HUNTER: MedFast Urgent Centers Founder Dr. David Williams Tracking COVID-19 to Protect the Public
COVID HUNTER: MedFast Urgent Centers Founder Dr. David Williams Tracking COVID-19 to Protect the Public
---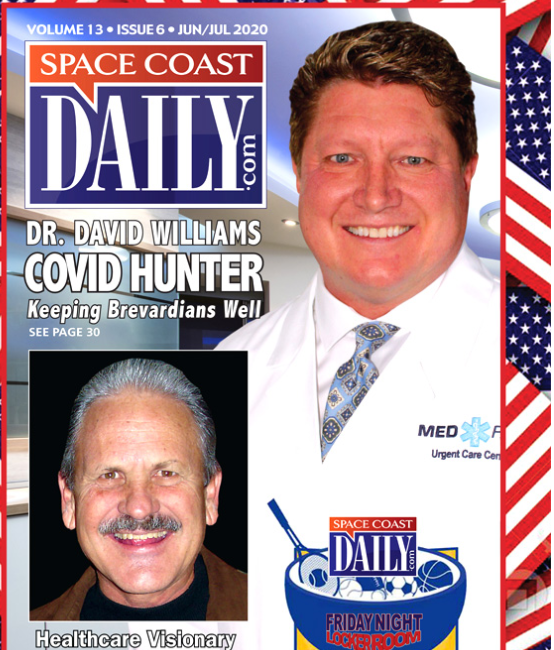 By Space Coast Daily // July 6, 2020
Dr. Williams, president and chief medical officer of MedFast Urgent Centers and medical director for the emergency medical services of the cities of Cape Canaveral, Titusville, Rockledge and Cocoa and for Canaveral Air Force Station Fire Rescue, has for the past several weeks been immersed in how coronavirus operates, unearthing some unexpected information about the insidious virus along the way.
MedFast Urgent Centers, which Dr. David Williams founded in 2007, operate a dozen practices throughout Brevard and in Edgewater, Florida. MedFast was one of the first locations where COVID-19 testing was offered in the county.
In his work with coronavirus patients, Dr. Williams has researched an unexpected fact: having antibodies for the virus does not necessarily mean you are no longer a carrier.
In the case of several patients, he treated and who had recovered from COVID-19, Dr. Williams discovered that even though the individuals exhibited antibodies, they were still testing positive for coronavirus.
"We found evidence of the virus in these individuals even 25 to 30 days after they tested positive for COVID-19," said Dr. Williams.
Coronavirus antibody tests indicate if the person's immune system has produced antibodies to any of the coronaviruses, regardless of whether he or she ever showed any symptoms.
According to the Centers for Disease Control, antibody tests check blood for antibodies, which are proteins that fight off infections and usually provide immunity against a specific disease.
The jury is still out regarding immunity from coronavirus, and as Dr. Williams and his MedFast medical team noted, individuals who have recovered from the virus can still test positive and continue to spread the disease.
"I would like emphasize that people who have antibodies may feel a false sense of security for themselves while also infecting more people," said Dr. Williams.
"There also has been no research that proves coronavirus antibodies gives you immunity."
The CDC previously recommended that healthcare providers could return to work just three days after loss of coronavirus symptoms, defined by the organization as "as resolution of fever without the use of fever-reducing medications and improvement in respiratory symptoms and at least seven days have passed since symptoms first appeared."
Dr. Williams noted that three days may not be enough. The CDC's most current recommendation have now changed to 10 days.
"These patients still tested positive for the virus even 25 to 30 days after they exhibited no symptoms and tested positive for antibodies," said Dr. Williams, who refused to allow these patients to return to work.
Researchers in other parts of the country are also puzzled about how long the virus can remain in the body. The Los Angeles Times, for example, reported on a man who served as host for the virus for 40 days, even though he exhibited only mild symptoms that resolved themselves in a couple of days.
As the country returns to normal activities, individuals may still carry the virus for weeks, infecting others along the way.
Dr. Williams asks that anyone experiencing coughing, fever and shortness of breath—symptoms that could signal coronavirus—to immediately call MedFast Urgent Care Centers for a consultation over the phone to determine if the individual meets the criteria for testing. Same-day physical testing is available.
A person experiencing severe symptoms such as persistent chest pain or trouble breathing should seek immediate medical attention.
Dr. Williams also stresses the need to remain calm and not assume that a stuffed nose or a cough is proof or coronavirus. Bronchitis, sinusitis and the flu are still, and will be, with us.
A visit to one of MedFast's 12 offices can assuage fears and provide relief for these common conditions, as well as for the many routine illnesses that are part of life. Remote visits are also available for individuals not comfortable with leaving the safety of their homes.
For patients with minor emergencies, MedFast provides a perfect alternative to hospital emergency rooms.
ERs are geared to handle serious medical incidents, and cases are triaged according to severity, leaving patients with minor emergencies that nevertheless require immediate attention to wait long hours for treatment.
During a time of pandemic, an ER is not the best place in which to spend extended periods of time. Additionally, ER services are expensive. Hospitals must have expensive medical equipment to treat the vast complexity of cases that arrive, equipment that is partly subsidized through higher costs in emergency care.
On the other hand, a family physician, who could treat these minor emergencies, may not be able to squeeze patients in for a same-day appointment. MedFast fills the void between hospitals and general practitioners with a prompt, efficient alternative.
Because MedFast does not have to offer the comprehensive life-saving equipment of hospitals, cost for treating minor emergencies is much lower than a hospital's, and because the MedFast practice model is based on prompt care, these urgent care centers can usually treat patients quicker than the family's regular provider.
"Ninety percent of our patients are in and out of the office in less than an hour, unless there are labs or procedures needed," said Dr. Williams. "We're affordable and fast."
Serving ages from infants to seniors, MedFast Urgent Care Centers accept most insurance. There are never surprises, either, for costs are posted in the reception.
With 11 offices in Brevard and a 12th. in Edgewater, MedFast is easy to reach, and practice hours that run from 8 a.m. until 7 p.m. seven days a week(except for Thanksgiving and Christmas) allow patients the convenience to walk in without an appointment.
The largest true urgent care complex in the Space Coast, MedFast treats more than 100,000 patients annually.
All MedFast Centers are equipped with digital x-ray machines, EKGs, flu tests, vaccinations, urinalysis testing, blood tests and spirometry testing equipment to handle the diagnostics and testing of issues that need timely attention but are not life-threatening.
"We are also able to perform a wide range of minor procedures," said Dr. Williams.
Abdominal pain, animal bites, sutures for cuts and lacerations, splinting, injections, vaccinations, insect stings, allergic reactions, asthma attacks, abrasions, back and neck pain, colds and flu, sore throats, fractures, rashes, sprains and strains and urinary tract infections are some of the issues MedFast routinely treats.
MedFast's board-certified physicians, medical assistants and technicians are highly trained and experienced in urgent care, and maintain all relevant licensing, certifications and credentials. Dr. Williams, who oversees the clinical staff, served as chairman of the Department of Emergency Medicine, Wuesthoff Health System (now Steward Health Care).
For 10 years during his tenure there, Wuesthoff earned the highest Health Grades Emergency Medicine Excellence Award, presented to hospitals performing in the top five percent in the nation for emergency medicine excellence.
In addition to urgent care, MedFast provides occupational health services that include physical examinations, including DOT physicals for commercial vehicle operators, vision and drug screenings, lab services, electrocardiograms, pulmonary function testing, respirator clearance exams, vaccinations, TB testing, x-rays and audiometric testing.
Medfast Urgent Care Centers treat and care minor work-related injuries, from slips and falls to lacerations and repetitive motion injuries.
"If you are injured at work, we are fully prepared to treat your injury quickly, and provide follow-up care and treatment under your employer's Workers Compensation Plan," said Dr. Williams.
MedFast's school and sports physicals for VPK to college-age students are an affordable $30 and require no appointments. Physicals include a health history review, basic vision test, physical exam and safety and education tips.
To make treatment even more convenient, MedFast can fill most medications in-office, saving a trip to the pharmacy. More than 40 different medications commonly prescribed in an urgent care setting, including antibiotics, non-narcotic pain medications, steroids, topical ointments, and anti-virals, are in stock and priced at $15.
MedFast's Pharmacy Discount Cards, available free to patients, can save up to 80 percent on other prescription medications at most major pharmacies, including CVS, Walgreens, Walmart and Target.
As the pandemic continues, so, too, will MedFast's testing for COVID-19.
"It is our mission to provide comfort, calm and support to our community," said Dr. Williams. "We are empowered to make a difference, whether with COVID-19 or with a minor emergency."
---
https://spacecoastdaily.com/2020/07/covid-hunter-medfast-urgent-centers-founder-dr-david-williams-tracking-covid-19-to-protect-the-public/