Space Coast Daily - Dr. David Williams, MedFast Urgent Care Founder, Creates Healthcare Juggernaut
Space Coast Daily - Dr. David Williams, MedFast Urgent Care Founder, Creates Healthcare Juggernaut
---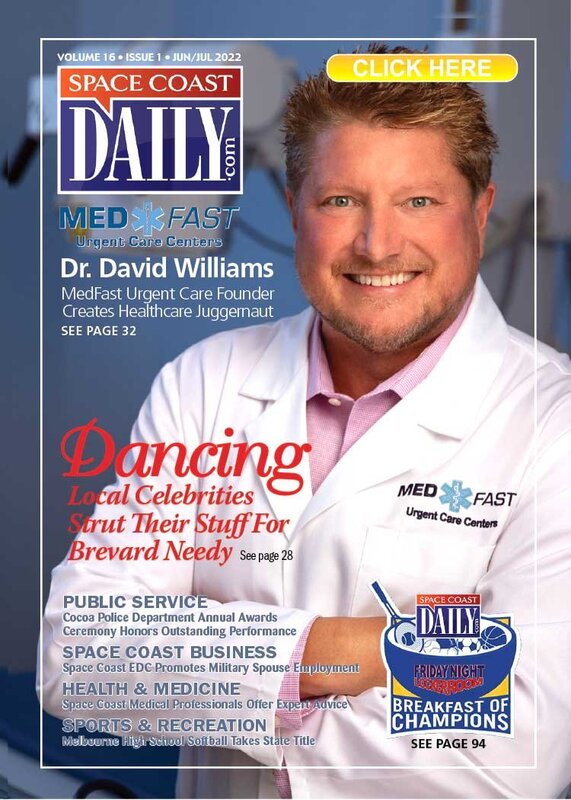 Story By: Maria Sonnenberg
Healthcare When You Need It Now: Medfast Urgent Care: Now Features 14 Central Florida locations – and growing!
MedFast Urgent Care, which holds the distinction of being the area's largest and most comprehensive provider of urgent care services, also reaches beyond urgent care with a network of community support that helps to ensure the health of Space Coast residents young and old. "We are truly community-based," said Dr. David Williams, who founded this network of care in 2007 and is the practice's president and chief medical officer. When COVID-19 first made news in 2020, Dr. Williams was at the vanguard of response, becoming the "COVID Hunter," who researched the unpredictable virus and provided down-to-earth advice to help the community. Every week through Space Coast Daily Television, Dr. Williams reached out to the public with the latest facts on the virus."We tried to dispel the misinformation that was being promoted," he said.
At a time when tests and equipment were scarce, he worked with the Florida Department of Health to obtain these to keep pace with the rapidly increasing number of patients. MedFast Urgent Care Centers remained open throughout the pandemic to care for the community and Dr. Williams lectured to first responders around the county on emerging protocols for treating suspected coronavirus patients. Emergency Medicine Expert, Dr. Williams, also serves as medical director for several EMS agencies throughout the county, including the cities of Cape Canaveral, Titusville, Rockledge and Cocoa, and for Cape Canaveral Space Force Station. "We support their operations in any way we can as an organization," said Dr. Williams, who has extensive experience in emergency medicine. As a college student, he spent summers working as a park ranger for the helicopter emergency response and fire team at Yellowstone National Park, where he became certified in helicopter rescue and participated in the park's first heli-rappel rescue. After learning his doctorate from the Philadelphia College of Osteopathic Medicine, he completed his residency in emergency medicine at the University of Florida Heath Science Center in Jacksonville.
Flight Surgeon
The recipient of a military medical scholarship, Dr. Williams attended the Naval Aerospace Medical Institute and served the United States Marine Corps for three years and two deployments in Southeast Asia as a flight surgeon for the F-18 squadrons based in Hawaii.The Medivac plan he created was used by 10,000 military personnel who participated in the annual Cobra Gold military exercise in Thailand. During his residency, he served a medical clerkship with NASA at the Johnston Space Center, where he developed a neurological rating scale used as a tool by NASA flight surgeons to evaluate astronaut readiness for resuming normal flight operations. Service as a NASA subcontractor at Star City, Russia, followed, with Dr. Williams working as mission operations physician for the Mir-Shuttle space program. His duties included managing a clinic that not only monitored astronaut health, but also trained them in conducting emergency medical procedures abroad the Space Shuttle. He additionally created emergency medical and evacuation procedures for NASA staff working in Russia. Dr. Williams was later appointed emergency medical director at Hollywood Medical Center in South Florida. He was subsequently named chairman of the emergency medicine department of Wuesthoff Health Systems. During his tenure there, Wuesthoff earned the highest Health Grades Emergency Medicine Excellence Award, presented to hospitals performing in the top five percent in the nation for emergency medicine excellence.
Filling the Void
Dr. Williams founded private practices in Melbourne and Rockledge before launching MedFast Urgent Care Centers in 2007 to fill a void in urgent care. MedFast serves Brevard County with 14 locations that treat hundreds of patients each day. The network of practices offers patients a time and money-saving alternative to hospital emergency rooms for non-life-threatening minor emergencies such as lacerations, animal bites, asthma attacks, abrasions, sports-related injuries, gastrointestinal or urinary complaints, back and neck pain, colds and flu symptoms, sprains and strains and urinary tract infections.
MedFast Model is Win-Win
The MedFast model is a win-win situation for patients and insurance companies alike. MedFast can perform x-rays, suture lacerations, provide intravenous hydration, place splints, drain wounds, and many other procedures not practical for doctor's offices and less expensive than the emergency room. "We negotiate with insurance carriers to save both the patients and the companies money," said Dr. Williams."We are also conserving hospital resources."Hospital emergency rooms are equipped for serious and complex medical incidents, and thus services are more expensive to partly subsidize the cost of the comprehensive equipment required. Patients are also triaged according to the severity of their condition, so minor emergencies are often pushed to the back of the line if more serious emergencies appear. Conversely, a general practitioner's office may not have the diagnostic resources to treat minor emergencies and may also be booked for days and not be able to offer sameday treatment. MedFast provides a perfect alternative, with wait times of less than one hour and no appointments needed. "It's healthcare when you need it now," said Dr. Williams."We are filling a need for faster, less costly medical services." Given the need, it is not surprising that MedFast has grown rapidly, with an average of two new locations opening every year. Four more locations will open this fall. Services are available from 8 a.m. until 7 p.m. seven days a week, except for Thanksgiving Day and Christmas. Most insurance is accepted. Patients are never in for a surprise regarding costs, since prices are clearly posted in the reception area. The MedFast medical team includes board-certified physicians, nurse practitioners, physician assistants, medical assistants, and x-ray technicians, all experienced in urgent care. All MedFast locations are fully equipped with digital x-ray machines, EKGs, flu and covid tests, vaccinations, urinalysis testing, blood tests and spirometry testing equipment to handle the diagnostics and testing for urgent care issues. Each MedFast location offers the convenience of onsite stock splints, crutches, and more than 40 different medications commonly prescribed in an urgent care setting, including antibiotics, non-narcotic pain medications, steroids, topical ointments and anti-virals. MedFast also offers free pharmacy discount cards that can save patients up to 80 percent on prescriptions at major pharmacies such as Walgreens and CVS.
Community Partnership
MedFast services additionally go beyond urgent care, reaching out to local businesses and schools. Every year, MedFast supports local student athletes with affordably-priced physicals that include EKGs, a critical test that can mean the difference between life and death for a young athlete, yet one that is not readily available at a pediatrician's office because of the cost of the equipment. Locally, these tests have been lifesavers for at least 40 student athletes who could have succumbed to sudden cardiac arrest had not an EKG revealed a problem. "We not only administer the tests, but we partner with a pediatric cardiology group to review the tests and evaluate the child," said Aimee Whitlock, vice president of operations. For the cost of $30 for school physicals that include a health history review, physical exam, basis vision test and safety and education tips, and $30 for EKGs, parents can be assured that it is safe for their youngsters to play sports. As with all MedFast services, no appointments are necessary, so families can visit at their convenience. MedFast also supports local businesses large and small – and Brevard County Public Schools – with a range of occupational medicine that includes physicals, drug screening and workers' compensation claims."We are the largest provider of Department of Transportation physicals that support local commercial vehicle drivers," said Dr. Williams.These examinations are critical, both legally and safety-wise, for commercial vehicle operators. "We also treat employees with work-related injuries and provide follow-up care under the Workmen's Compensation Plan and we can do it more affordably than a hospital can," added Dr. Williams. As part of its community outreach, MedFast supports the efforts of a variety organizations, including the Brevard County Sheriff 's Office, school sports teams, churches, and senior groups. "We are very involved with all aspects of the community," said Alexandra Boles, MedFast Director of Business Development. Dr. Williams credits a philosophy of care that encompasses the individual patient as well as the entire community for MedFast's success."We are here for the long run, serving the community through the pandemic and beyond," he said
---
http://digital.npcprinting.com/publication/?m=38944&i=751770&p=32&fbclid=IwAR3j7Ns0MpYLu2goi-Y3rMkb5RLYeDUBoSiJgYOk3-zhTzowBDgLgwNyask&pre=1&ver=html5