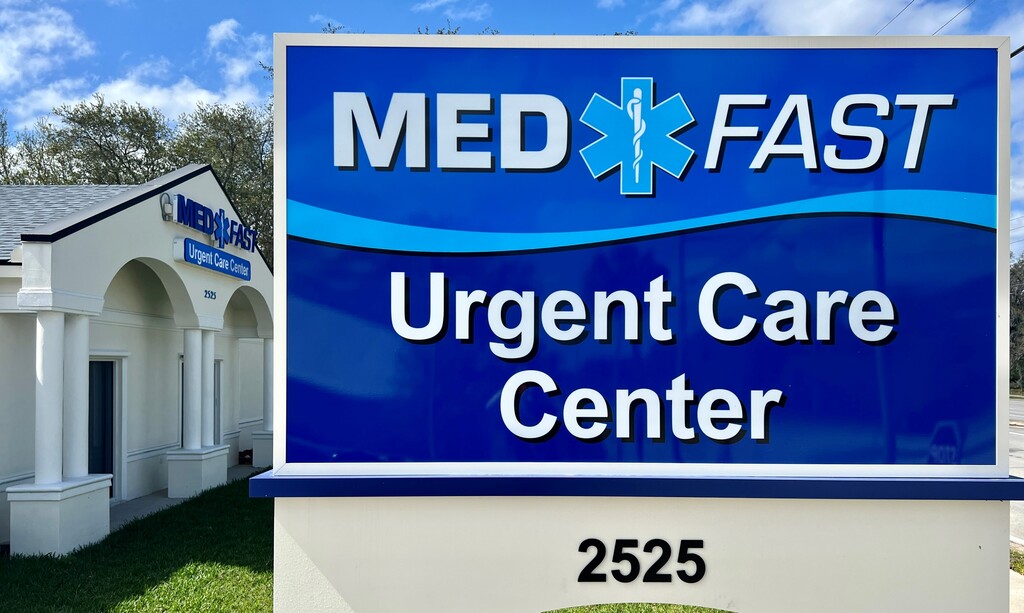 Address:
2525 Garden Street
Titusville , Florida 32796
Get Directions
Phone: 321-966-2646
Fax: 321-966-2647
Hours of Operation: 7:30AM-7PM, 7 Days a Week
If you're looking for an urgent care center in Titusville, Florida look no further! Medfast Urgent Care Center is conveniently located at 2525 Garden St. We offer many of the same services you may require if you went to an emergency room, however our wait times are significantly shorter. If you've been to an emergency room, you know the average wait time is a few hours and by the time you are treated and back home can take even longer. At our Titusville urgent care clinic our wait time is less than an hour. In fact, we can treat most patients in less than an hour as well!
In addition to short wait times and fast treatments, you'll also save money when you opt to go to Medfast Urgent Care Center. Emergency room trips can be costly, whether you have insurance or not. Visits and treatments provided by MedFast Urgent Care Centers are more affordable because we have a much lower overhead than a huge hospital.
Our Doctors, nurses, and physicans are committed to prompt service, and we offer a wide variety of diagnostic testing to ensure you are properly diagnosed and treated. Whether you have a minor illness or injury, need a physical, sustained a work-related injury or some other more severe issue, we have you covered!
If you aren't sure what conditions we have the capability to treat, here is a list for your convenience: minor burns, common colds and coughs, earaches/ear infections, flus viruses, pneumonia, gastritis, asthma, sprains and strains, cuts and abrasions, skin rashes, dehydration, UTIs, allergic reactions, abdominal pain, animal bites/scratches, bronchitis, boils, insect stings and bites, back pain, and more! We also offer a wide variety of labs and a number of minor procedures on site.
Some of the labs we offer include:
Blood Testing
EKG's
Respiratory Testing
Urinalysis
X-Rays
Minor procedures include but are not limited to; suturing of lacerations and cuts, splinting, administering IV fluids and injections and vaccinations. We can also provide you with Sports Physicals, Back to School Physicals, Work Physicals, DOT Physicals, Workers Compensation Care and more.
Take a look through our website for a further look at the services we provide, when accidents and minor emergencies suddenly come to Medfast Urgent Care Center, our office is open 7 days a week from 8:00 am - 7:00 pm. We're here to help the Titusville, Florida Community.
MAP
---