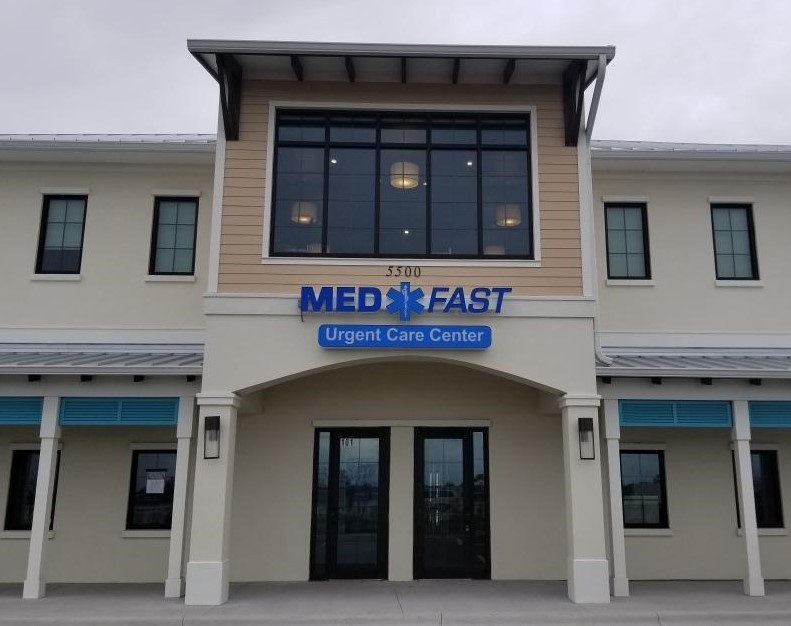 Address:
5500 Stadium Parkway, Suite 101
Melbourne, Florida 32940
Get Directions
Phone: 321-306-5510
Fax: 321-306-5505
Hours of Operation: 7:30AM-7PM, 7 Days a Week
"Located near Viera High School and the Space Coast Stadium"
When you have a minor emergency or work related injury MedFast Urgent Care Clinics will suit your needs quickly, professionally and affordability. Medfast Urgent Care Centers can save you valuable time and money. Our goal is to provide affordable, professional urgent healthcare. With our convenient hours, there's no need to leave work early or arrive late because of a doctor appointment.
The doctors and staff here at Medfast Urgent Care Centers understand that emergencies happen. Symptoms of illnesses don't wait for 'regular' business hours, they strike at inconvenient times. That's a main reason our centers offer extended hours 7 days a week. Emergency Room visits can sometimes take longer on weekends, no need to get stuck waiting a long amount of time for care and attention you deserve in less than half the time. We pride ourselves on offering exceptional care to the community, come see our doctors, we're ready to serve you.
We are open seven days a week, to serve your healthcare needs and can treat the following:
Minor and Major Illness
Animal Bites and Lacerations
Sprains and Strains
Allergic Reactions
Pre-Employment Physicals
Workers Compensation and Drug Screens
and More
MAP
---